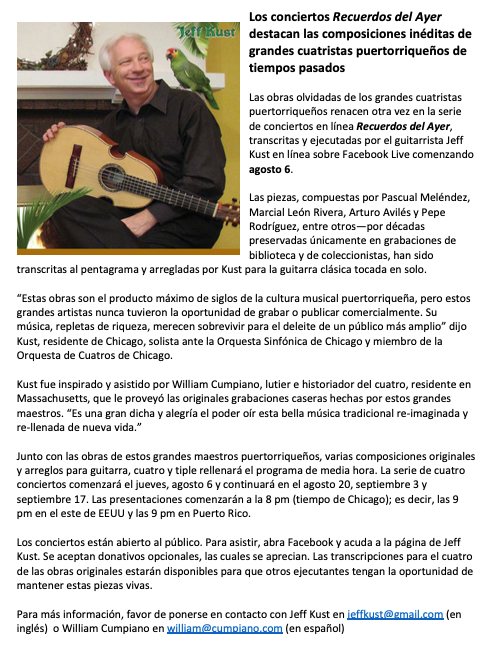 The concerts Memories of Yesterday highlight the unpublished compositions of great cuatristas Puerto Ricans of bygone days The forgotten works of the great cuatristas Puerto Ricans are reborn again in the Memories of Yesterday online concert series, transcribed and performed by guitarist Jeff Kust online on Facebook Live beginning August 6.
The pieces, composed by Pascual Meléndez, Marcial León Rivera, Arturo Avilés and Pepe Rodríguez, among others — for decades preserved only in library and collector recordings, have been transcribed into the pentagram and arranged by Kust for the classical guitar played on solo. "These works are the maximum product of centuries of Puerto Rican musical culture, but these great artists never had the opportunity to record or publish commercially. Their rich music deserves to survive to the delight of a wider audience, "said Kust, a Chicago resident, soloist with the Chicago Symphony Orchestra and a member of the Chicago Fours Orchestra.
Kust was inspired and assisted by William Cumpiano, luthier and historian of cuatro, a Massachusetts resident, who provided him with the original home recordings made by these great masters. "It is a great happiness and joy to be able to hear this beautiful traditional music re-imagined and filled with new life." Along with the works of these great Puerto Rican masters, various original compositions and arrangements for guitar, cuatro and tiple will fill the half hour program.
The series of cuatro concerts will begin on Thursday, August 6 and will continue on August 20, September 3, and September 17. Performances will begin at 8 pm (Chicago time); that is, 9 pm in the eastern United States and 9 pm in Puerto Rico. The concerts are open to the public.
To attend, open Facebook and go to the Jeff Kust page. Optional donations are accepted and appreciated. Transcripts for the cuatro of the original works will be available so that other performers have the opportunity to keep these pieces alive. For more information, please contact Jeff Kust at [email protected] (in English) or William Cumpiano in [email protected] (in Spanish)