Student of the Month Cuatristas.com
We are pleased to introduce a student from Cuatristas.com that due to its executions, improvement and notable progress in the Cuatrowe have decided to select him as Student of the Month.
Congratulations ABNER CANO COLLAZO-CRUZ for being a worthy representative of the students of Cuatristas.com, in good time continue reaping success with your great talent in Puerto Rican Cuatro.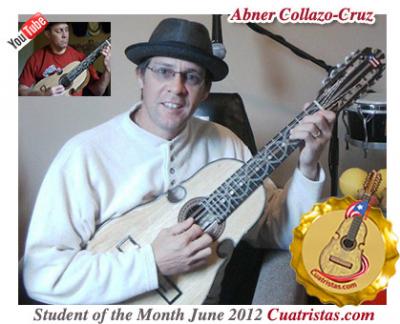 History and message of Abner "Cano" Collazo- Cruz
My name is Abner Collazo-Cruz, they call me Cano. I was born in New York and at age 10 my family returns to Bayamón, Puerto Rico where I grew up. In 1984 I entered the Puerto Rico Air National Guard and then decided to enter full time and that is how I arrived where I reside since 1988, Guam, USA. A tropical island of 35 x 10 miles, population 160k, and about 24 hours back to Puerto Rico.

In 2007 I travel to Puerto Rico to say goodbye to my father and my mother and brothers comfort. During that trip, as I was interested in learning to play our national instrument, I bought a cheap one in the Plaza de Rio Piedras and my sisters gave me a book / DVD combo to learn how to play it. Once I returned to Guam, I dedicate time to the book / DVD, but since I was not interactive it was very difficult for me to progress even with the simplest songs. A time like this happened, but one day in 2009 I found on YouTube a promotional video for www.cuatristas.com And they don't know how happy I was. I made contact with the teacher Maribel Delgado and immediately I subscribed to Cuatristas.com. I was just beginning and I am one of the first student members of this super interactive project.

Cuatristas.com It has evolved in an incredible way, and there are some key points why; Maribel is a Cuatrista complete, a music teacher by profession and a web designer, the "complete package" for a project like this. But with what was available for 2009, it was much easier for me to learn, and already in my 5th week in school, at 47 years old, I uploaded my first video on YouTube, the Impromptu Dance. Imagine me on the other side of the world in my house, learning to play the cuatro and my teacher Maribel in Puerto Rico, amazing!

I've been learning for 3 years now and I don't get tired. Today I have a cuatro Professional golden edition, made by maestro Jaime Jaimea. You can see my progress here on my YouTube channel. (http://www.youtube.com/user/canocruz.
I was always attracted to the typical music of Puerto Rico and I had it as part of my record collection, and I listened to it frequently, but knowing how to interpret it, and more in the cuatro, That is priceless. I also appreciate other genres such as salsa, Latin jazz, Pacific Island music.

Currently I lead a salsa group "Caliente de Guam" where I play percussion and sing. We have been making Salseros of Guam dance for 10 years. My efforts to learn to play the Cuatroit is also looking to incorporate him into the band soon, and this would be my best achievement. Meanwhile I hold on to cuatristas.com and to the other teachers who are excellent, to fulfill my goals. I also appreciate other genres such as Latin jazz, music from the Pacific (Guam and Hawaii) "island music". Thanks to Maribel Delgado and Cuatristas.com! And may our culture and our native music live!

Send a message to Abner Cano Collazo in the commenting system below.