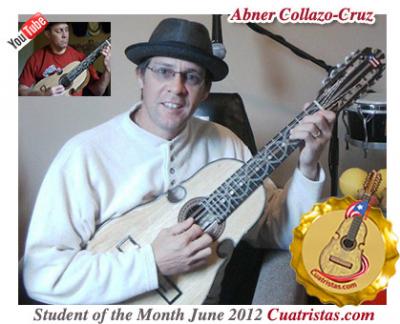 Student of the Month Cuatristas.com
We are pleased to introduce a student from Cuatristas.com that due to its executions, improvement and notable progress in the Cuatrowe have decided to select him as Student of the Month.
Congratulations ABNER CANO COLLAZO-CRUZ for being a worthy representative of the students of Cuatristas.com, in good time continue reaping success with your great talent in Puerto Rican Cuatro.


History and message of Abner "Cano" Collazo- Cruz
My name is Abner Collazo-Cruz, they call me Cano. I was born in New York and at age 10 my family returns to Bayamón, Puerto Rico where I grew up. In 1984 I entered the Puerto Rico Air National Guard and then decided to enter full time and that is how I arrived where I reside since 1988, Guam, USA. A tropical island of 35 x 10 miles, population 160k, and about 24 hours back to Puerto Rico.